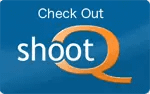 Welcome back to Part II of my series on ShootQ!  Don't forget to check out Part I and learn a little bit about branding your client areas and how I use some of the settings under Client Access & Correspondence.  Today we are going to talk about the Business and Finances settings!
Business and Finances
 Pricing:  I suggest having your pricelist handy before you start with this section, this is not the time to sit down and start figuring out what to charge.  Do that before you start with this section.  Now I'm mainly a wedding photographer with a few portrait sessions thrown in each month.  I use ShootQ for my initial bookings, clients can add on products at booking but I have it limited to albums, additional hours, portrait sessions and hi res dvd's.  I do all my print and canvas ordering through my Photocart galleries.  I suggest adding all the a la carte components that make up your wedding collections here and then you can build your collections or packages from those items.  For instance my middle collection includes coverage hours, DVD of wedding images, an engagement session and an album.  Each of those would be entered as a separate product with my a la carte pricing.  Once I've entered in everything I can move over to the Packages tab and create my packages.  Here I can build my collections at the a la carte rates and then adjust my the package price to reflect any package discounts I'm applying.  For example for Collection 2 my a la carte pricing might be over $4000 but I can adjust that to reflect the Collection price of $3500.  I also like to include everything in the description so clients are aware of exactly what they are getting.  Just a note but these Packages can be adjusted at booking also just in case you want to swap something out for a client.  The last tab is for Share Pricing and this is an area that I don't use but can be helpful for those that work off a la carte lists only.  Clients can build their own packages based off their needs.
Invoices & Payments:  Here is where you can customize the email that gets sent to your clients when their invoice is due.  Mine is set to the standard default right now but I will be updating it to blend more with my branding very soon.  I have it set to BCC me on all invoice emails so I know they are going out.  Over on the Online Payments tab you can setup your preferred merchant account.  I use Google Checkout which has the advantage of not having a monthly fee but due to some limitations it is not completely seamless in the integration with ShootQ.  When  client pays an invoice I have to manually add the payment to their account.  So far this hasn't been a problem and it is saving me from paying a monthly fee for another merchant account.
Pictage P3:  I don't use Pictage since I self host my galleries so you are on your own here 🙂
Workflow:  Great feature that helps me keep on track!  At first this completely confused me and I was going to purchase a template packet that had workflows but I realized that I needed to have my own workflow and not try to work off someone elses.  So now is a great time to sit down and write out everything you do from the time a client first contacts you all the way through the booking process, shooting process, editing and final delivery to the client.  I would recommend creating it in an outline format with the large overall task at the top and the smaller things below.  For example:
1. Pre-Wedding Consultation
Contact client to setup consult 2 weeks before wedding to review details
Book assistant shooter
Verify final payment
Order gallery viewing cards
ShootQ uses Milestones and Tasks to make up their workflows.  So the milestone here would be the Pre-Wedding Consultation and the tasks would be the bulleted items below.  You can then set a due date for that milestone and it's tasks to be completed by.  I have my workflow set to kick off as soon as I complete the booking.  I really love that I can automate the emails and questionnaires I created in Part I.  For example 1 day after booking my GTKY questionnaire gets sent out and 4 weeks before the event my Wedding Information questionnaire gets sent out.  They are sent out automatically while I sit back and drink my tea thinking of the beach 🙂  So look at your workflow and figure out what you can automate and make your life happier!  I have workflows for weddings, portraits, engagements only and engagements attached to weddings.  The workflows you create here will be the tasks that you see later on in your Dashboard, more on that later.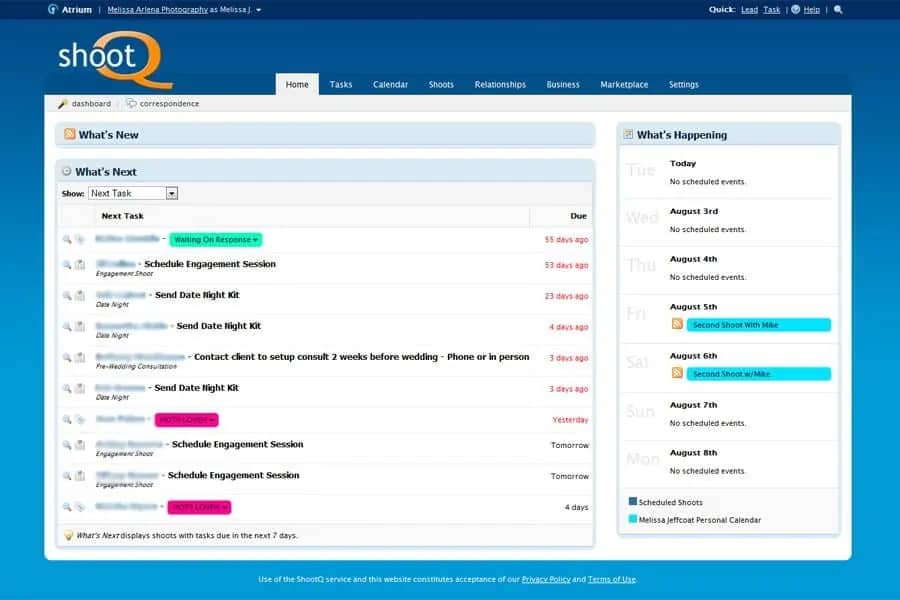 Next up is Product Workflows, I use these for album or book orders.  I recommend the same process of writing out your workflow for these orders.  I will go over assigning these later on when we talk about the client area.
The last section here is Lead Tracking and I'm going to make that Part III because this is the best part of ShootQ in my opinion!!  While I love the other aspects of it, this is the meat and potatoes of what I needed.
Contracts:  Another great feature that I use is ShootQ's online contracts.  You need to provide your own wording for the contracts but with ShootQ clients can sign them electronically and they are available to them at any time in their Client Area.  If you are looking for contracts you should check out Design Aglow and Photographer's Toolkit, I hear great things about them both.  I love that I no longer have to print contracts, then scan them back in after they have been signed, email them to the client and lastly file them away.  Yay to getting at least 15min of my day back!  I have my wedding contract here and my portrait contracts and I can assign whichever one fits my lead on the booking screen.
So that is the round-up on the Business & Finance section of your ShootQ settings.  Check back next week for a look at how I track my leads!