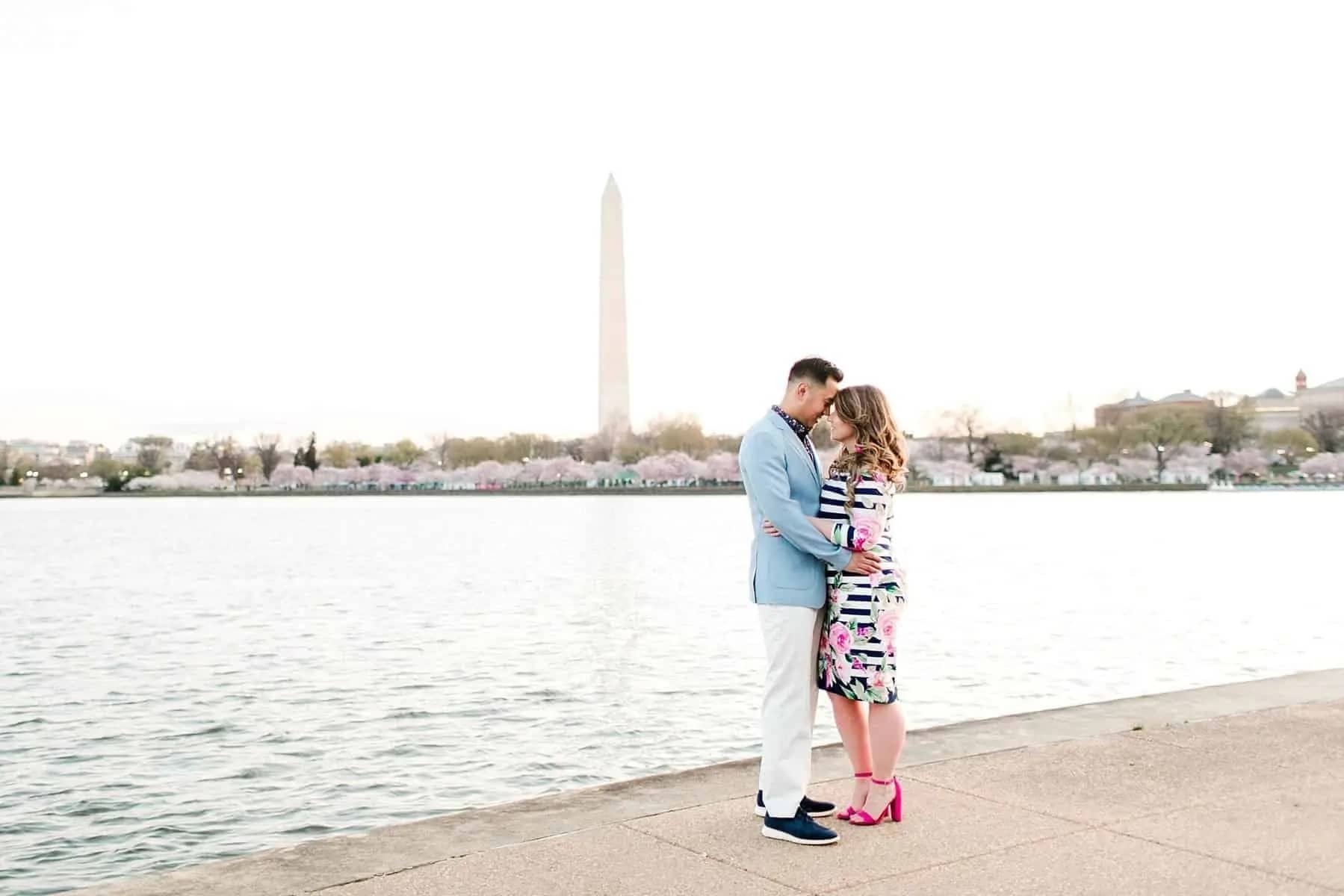 It has been one heck of a transition from Winter to Spring and for us here in Virginia, we are still wondering where our "Spring" weather is! For instance last week on Monday it was flurrying outside my office and by Friday it was mid 80's and we were wearing shorts. I think everyone is over Mother Nature's mood swings at this point!
Peak Bloom Time
What is my point in telling you about the weather? Well, all of that affects the peak bloom time of the Cherry Blossom trees at the Tidal Basin in DC! Amanda, Mark and I had to reschedule their Cherry Blossom engagement shoot 3 times trying to keep up with the bloom schedule. Then some crazy weather report surfaced that we would be getting a foot of snow over the weekend and let's just say all hell broke loose in the local photographer world as we all scrambled to get sessions in before Saturday.
Sunrise Session
So I met up with Mark and Amanda one blustery morning before sunrise at the Jefferson Memorial! Here is the deal guys, if you want cherry blossom engagement photos without a million tourists you have to be there before the sun comes up to get a spot. I'm not kidding you, the parking lots will be full and there will be busloads of people wandering around along with about a million photo sessions going on! I always run into at least one photographer I know but haven't seen in awhile, this year the winner was the adorable Abby Grace who is a pro at shooting in the crowds and getting beautiful images.
32-degrees
This particular morning it was 32-degrees!!!! Yes, you read that right it was literally freezing plus a light wind coming off the water of the Tidal Basin made it feel like 20! The good news? The cold seemed to scare off most people and we didn't have any crazy crowds to deal with. I only had to have Amanda and Mark wait a couple times for our background to clear to get the shots we wanted. But seriously compared to normal Cherry Blossom days it was practically empty!
Professional Models
So back to those frigid temperatures, let me just say that Amanda and Mark were CHAMPS!! Like professional model champs, they didn't complain and they managed to not look like they were popsicles which is a miracle in my book. Amanda never slept the night before and was having her makeup done at 3 am, I told her it was totally worth it because she looked STUNNING! I loved her striped dress with the flowers, it was the perfect complement to the blooms.
What to Wear
I have to say Mark is probably my most fashion conscious groom and he brought it with his pale blue jacket that mimicked the color of the early morning sky. Plus he had the perfect navy shirt with pink flowers and he rocked those short sleeves right along with Amanda with no complaints about the cold. The awesome news is that they are getting married in October so fingers crossed that we have a wonderfully warm wedding day!
Why Cherry Blossoms?
So you might be wondering why did we go through all of that for Cherry Blossom engagement photos? Because that was Mark & Amanda's first date many years ago! They were set up on an impromptu date, as in one knew it was a date and the other had no idea. So they walked around the cherry blossoms, decided they liked each other and the rest was history! I love doing engagement sessions at locations that have meaning to my couples. When Mark and Amanda look back at their photos they will remember this cold day but they will also remember that first date!
Mark & Amanda | DC Cherry Blossom Engagement
If you enjoyed this post, you might also LOVE:
More Engagement & Anniversary Sessions
Glamourous & Elegant Engagement with a European Feel