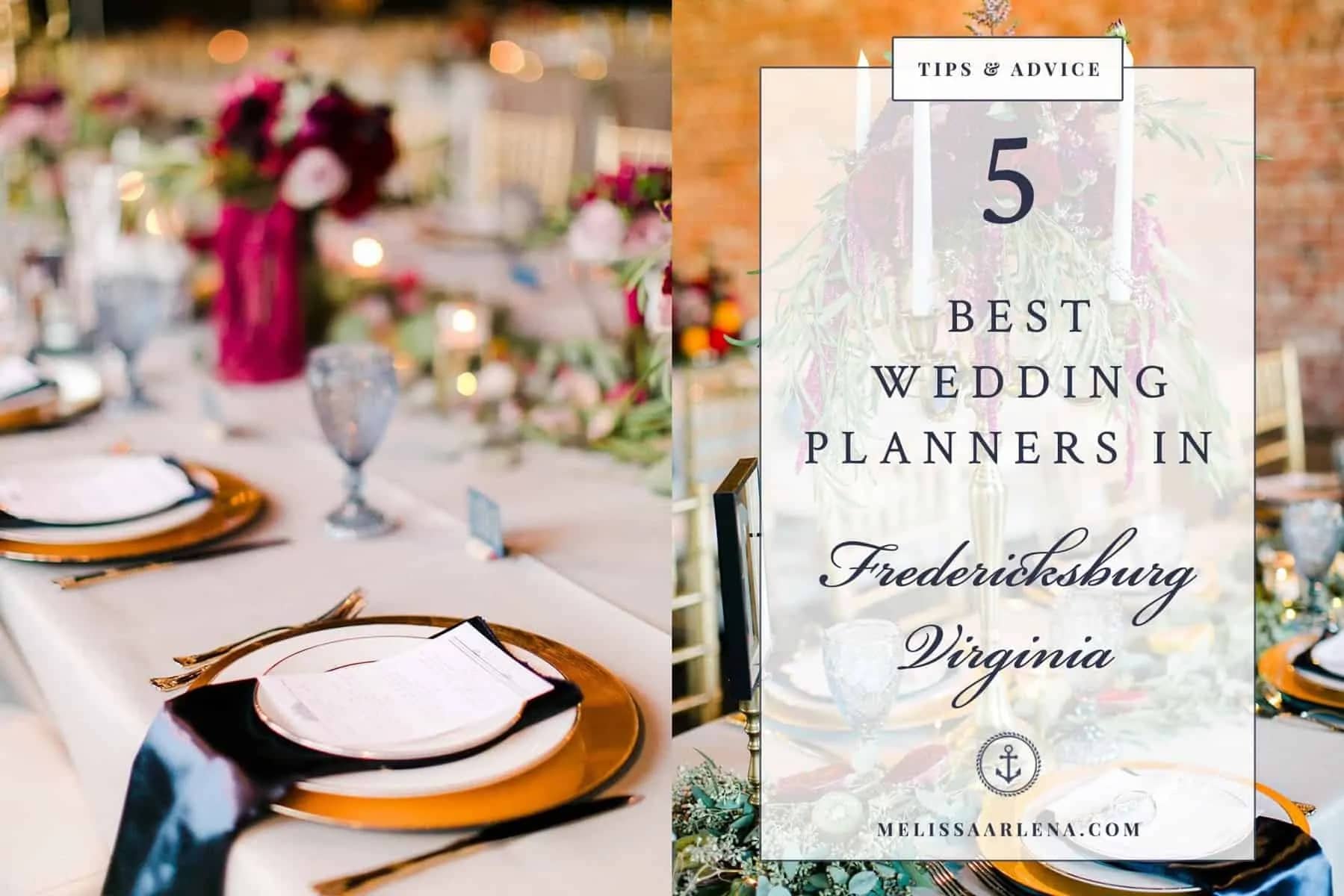 Whenever I'm asked what is the best wedding advice I can give as a wedding photographer I always say " Hire a Wedding Planner!". I wish I had hired one for my wedding because I'm pretty sure she would have stopped me from spending money in not so smart areas and taken care of the day of details so I could just be the bride!
In the spirit of that advice, I thought it was high time I introduced you to some of the best Wedding Planners in Fredericksburg Va! These ladies have been in the industry for years and know what they are talking about when it comes to planning your special day.
I've asked them to give you their best advice when it comes to planning your wedding so keep reading to learn from the pros how you can have a day to remember!
Bella Giornata Events & Design

Christina Moore and I have known each other for over 7 years now! We met at a bridal show way back when and have kept in touch over the years as we both have grown our businesses. Christina and her team at Bella Giornata plan and flawlessly execute over 60 weddings and events annually. She not only services the Fredericksburg area as a wedding planner and designer but also travels to DC, Richmond, Charlottesville, Loudoun and all over the beautiful state of Virginia.
I love how Christina describes their services, "Our analogy is we are your general contractor with a huge bonus; we are also designers! We allow you to enjoy your engagement season & enjoy the process. We spend time with you to learn what are the essential aspects of your event & we use that information to match you with vendors that meet your needs, vision & budget. We are your liaison, building your dream – while concerning your budget and timeline."
What is the best piece of advice you could give to a couple planning their wedding?
"I love when couples let their personality shine, don't overthink the details. Go with the choices that speak directly to your personalities and not worry so much about what others may think of the choice. It's your day! We love incorporating pieces from both sides of the family- it's a fun way to almost introduce them to one another, introduce them to some of your history or favorite things." – Christina Moore, Bella Giornata Events & Design
She has an office in Historic Downtown Fredericksburg at the Silver Stag Vintage House where you can chat with her all about your wedding plans! Be sure to check out her website Bella Giornata Events & Design!
Becca Bee Events

Becca Beasley and I connected a few years ago and worked together on a styled shoot for fun! I was blown away by her attention to detail as the shoot came together, she was on top of everything! I can definitely see why she gets raving reviews from her clients! You can check out that styled shoot we did here: Glasgow Farm Styled Shoot. It was even picked up for publication by The Knot!
I love her belief statement and why the bee means so much to her, "At Becca Bee Events, we believe there is no such thing as a flawless function, but we strive to create and deliver functions that appear flawless. We approach every detail with a healthy dose of humility and humor."
"Much like its bumblebee namesake, Becca Bee's aesthetic is largely influenced by nature—Our event elements complement the geographic location, climate, time of year, and venue. We aim to keep things logical and lovely."
What is the best piece of advice you could give to a couple planning their wedding?
"Recently I sat with a couple during their tasting and watched them agonize over their menu choices—they were very concerned with what their guests would think.  This is a familiar scene for me, whether it be the menu in question or transportation or the venue. While it is nice that you consider your guests while planning your wedding, please remember: This is YOUR wedding. 
Your guests are coming to see who you are, as a couple.  Some of your guests will not have seen you in years.  Some may not ever have met your fiancé.  And they are traveling, perhaps great distances, to attend an event that will only last a few hours.  So use your time wisely: insert as many personal details as you can, right down to what you eat. 
If you don't like cake, don't serve it. In today's wedding industry, there are not many "wrongs" and "rights" so do not limit yourself to what you think you should be doing.  You do you.  Be authentic.  Create a day that you and your fiancé would love.  Your guests will appreciate it too because if you're having a good time, they're going to have a good time." – Becca Beasley, Becca Bee Events
Becca caters to clients in Virginia, Maryland, and DC but is happy to travel to destinations worldwide! You can check out more of her work at her website: Becca Bee Events.
Occasions by M&K
Everyone in the local wedding industry has heard the name Occasions by M&K! Michelle Gillespie has been planning weddings & events for over 18 years in the Fredericksburg, Virginia region. I always run into her team and their red sweaters at local wedding events!
I love the passion and focus behind her company, "I have always loved the process of an event. Guests should never experience the hustle and bustle of the behind the scenes details. What they should experience is an event that allows them the opportunity to have a wonderful time. At Occasions By M&K we feel that the Bride and Groom / Host and Hostess should only experience the behind the scenes hustle and bustle until the day before the event. At that time they should focus only on enjoying the event and each other."
What is the best piece of advice you could give to a couple planning their wedding?
"Enjoy the moment, enjoy being engaged, and enjoy the planning process." – Michelle Gillespie, Occasions by M&K
You can find Michelle and her team at their retail storefront in Central Park next to Simply Modern Bridal. Be sure to check out her website to learn more: Occasions by M&K
Darling D's Events, Design & Rentals

Vintage furniture rentals have become a big part of the wedding industry in recent years and I love that Darcie Callahan and her team from Darling D's has brought that trend to Fredericksburg along with their wedding planning services! They have a complete inventory of vintage and rustic decor to make your day unique.  I love their promise that if they don't have a rental you are looking for they will find it or make it for you!
When it comes to wedding planning they say, "Your wish is our command.  We provide you with a fun, stress-free wedding experience as we plan your day from start to finish.  Turning your dreams into reality."
What is the best piece of advice you could give to a couple planning their wedding?
"We need three things for this day to happen.  One we need you the bride, two we need you the groom and three we need LOVE.  Everything else is just an added bonus." – Darcie Callahan, Darling D's Events
"Darling D's will help you plan your dream wedding or event in the Northern Virginia area. They are also the place to go for all your Rustic and Vintage Rentals serving the Fredericksburg, Richmond and Washington D.C. area." So be sure to check out their rental inventory and wedding planning services on their website: Darling D's Events
MayJune Events

I met Jennifer Baer from MayJune Events at a bridal show several years ago! I remember being impressed with her booth and examples of her work so I stopped by to introduce myself. Jennifer offers everything from day of coordination to partial planning and of course full-service wedding planning to fit your needs.
She has a great philosophy when it comes to wedding planning that I wanted to share, "My philosophy is a simple one. I believe a wedding tells the story of that couple – who they are, how they came to be, and where they intend to go. My job is to help them tell the most beautiful version of that story while making the process of doing so as fuss-free as possible." I love that term fuss-free!
What is the best piece of advice you could give to a couple planning their wedding?
"The best advice I could give to a couple planning their wedding… Besides hiring a planner, of course, my best piece of advice to any couple planning their wedding is to not lose sight of what the day is ultimately about. There will inevitably be bumps along the way (and even on the big day itself!), but if remember that the wedding marks the beginning of your new life together, and at the end of the day you got married, had fun, and celebrated with loved ones, then that really is all that matters." – Jennifer Baer, MayJune Events
Jennifer is based out of Haymarket but serves the Fredericksburg community as well as Northern Virginia. You can see more of her work and get to know her on her website: MayJune Events
Wedding Planner Fredericksburg Va
If you liked this post, then you'll LOVE:
5 Bridal Hairstyles for Your Wedding Day
5 Tips for Choosing Your Wedding Photographer
Fredericksburg & Richmond Wedding Photographer Portfolio